In this project, we will connect the Mars Explorer to Wifi and use an APP to control it through the Internet. This is the last video of this series, I hope you liked it.
Parts Required
You can buy your kit @Amazon
1x Mecanum wheels robotic car chassis (2x left-wheels +2x right-wheels and 4x motor)
1 x Arduino Mega2560
1 x Wifi Shield
2 x Model X motor driver
1x HC02 bluetooth module
1x Battery box
2x 18650 Batteries(3.7V)
Procedure
Following are the steps required to perform this tutorial.
Hardware Assembly
You must complete Tutorial 1, Tutorial 2, Tutorial 3, and Tutorial 4 before you continue on with this one. Keep all the connections the same as it is and then plug out the Bluetooth module from Wifi Shield.
Circuit Connection
Remove the connection B_TX and B_RX to D18 and D19.
Step 1: Connect E_TX to D19 (RX1) and E_RX to D18 (TX1).
Software Installation
Step 1: Please download the library zip file from WiFiEsp-master.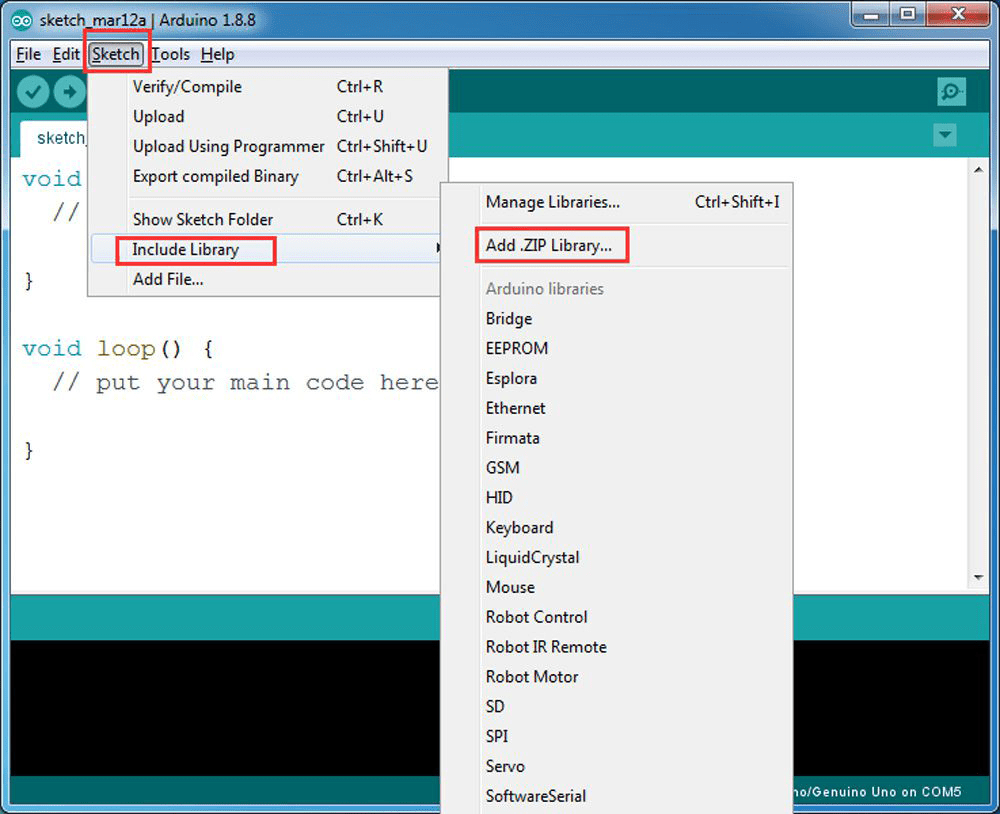 Step 2: Search on Google Play or Apple Store with the Keywords "OSOYOO Wifi UDP Robot Car Controller " and Download the APP.
When working in AP mode, our robot itself will become a Wifi Hot Spot. Our smartphone can connect to the Robot as its wifi client. The IP address of Robot is fixed as 192.168.4.1 and it is not connected to WAN.
Step 3: Upload the code (below) into Arduino.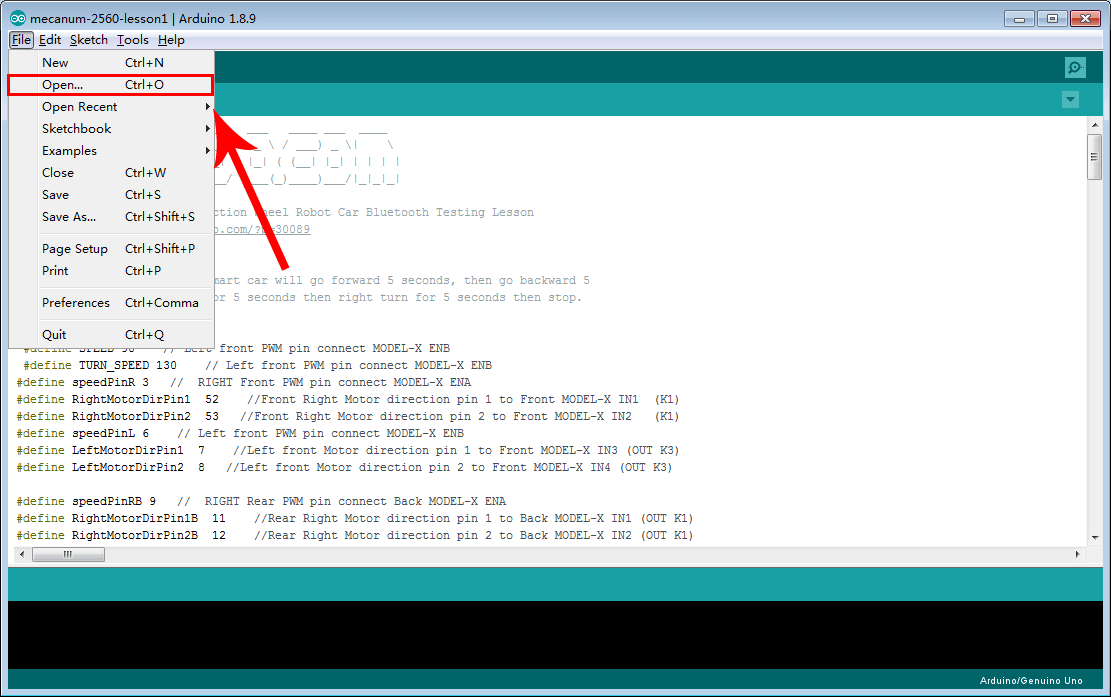 Step 4: Open your Arduino Serial monitor and set 9600 baud rate, then you will see a similar result as AP mode. A new Wifi SSID "osoyoo_robot" with IP address 192.168.4.1 will show up in the window. This means your Robot has a Wifi Hot Spot name "osoyoo_robot", its IP address is 192.168.4.1, port 8888.
Step 5: Now your robot becomes a Wifi Hot Spot and set the IP address as "192.168.4.1" to your APP setting section.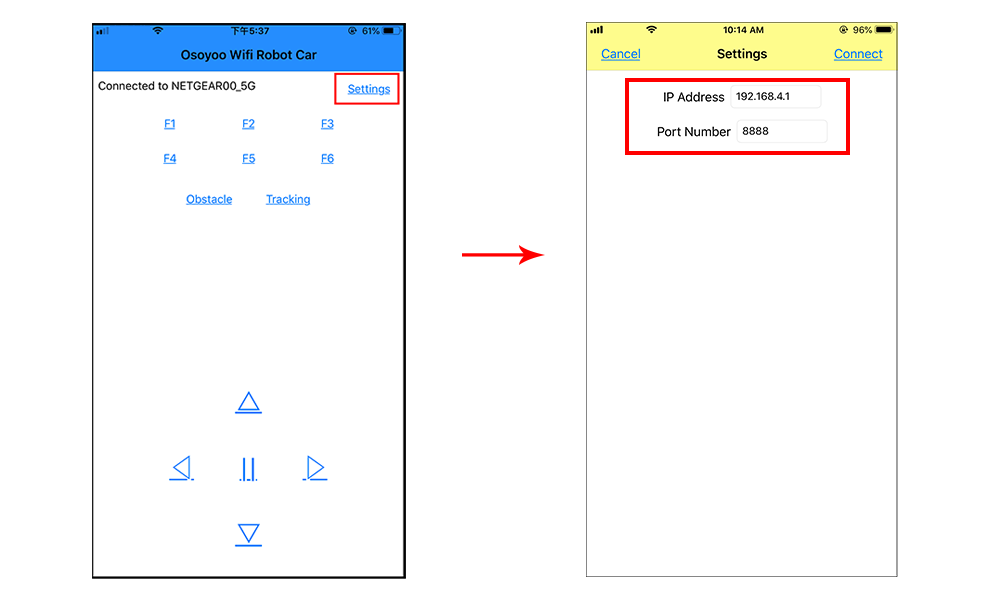 Step 6: Connect your smartphone to "osoyoo_robot" wifi hot spot, you can use the smartphone to control the robot.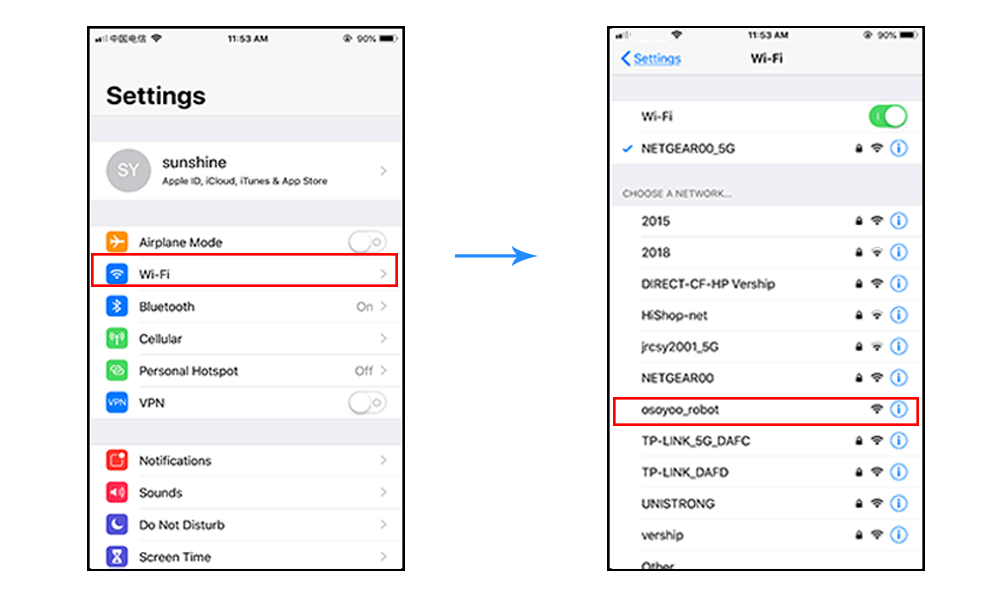 You can click the ◄ ► ▲ ▼ direction keys to make the car move. Use "||" pause key to stop the car movement.
Code
#define SPEED 85    
#define TURN_SPEED 90  
#define SHIFT_SPEED 130  

#define TURN_TIME 500  
#define MOVE_TIME 500  

#define speedPinR 9   //  RIGHT WHEEL PWM pin D45 connect front MODEL-X ENA 
#define RightMotorDirPin1  22    //Front Right Motor direction pin 1 to Front MODEL-X IN1  (K1)
#define RightMotorDirPin2  24   //Front Right Motor direction pin 2 to Front MODEL-X IN2   (K1)                                 
#define LeftMotorDirPin1  26    //Left front Motor direction pin 1 to Front MODEL-X IN3 (  K3)
#define LeftMotorDirPin2  28   //Left front Motor direction pin 2 to Front MODEL-X IN4 (  K3)
#define speedPinL 10   // Left WHEEL PWM pin D7 connect front MODEL-X ENB

#define speedPinRB 11   //  RIGHT WHEEL PWM pin connect Back MODEL-X ENA 
#define RightMotorDirPin1B  5    //Rear Right Motor direction pin 1 to Back MODEL-X IN1 (  K1)
#define RightMotorDirPin2B 6    //Rear Right Motor direction pin 2 to Back MODEL-X IN2 (  K1) 
#define LeftMotorDirPin1B 7    //Rear left Motor direction pin 1 to Back MODEL-X IN3  K3
#define LeftMotorDirPin2B 8  //Rear left Motor direction pin 2 to Back MODEL-X IN4  k3
#define speedPinLB 12    //   LEFT WHEEL  PWM pin D8 connect Rear MODEL-X ENB
/*motor control*/
void right_shift(int speed_fl_fwd,int speed_rl_bck ,int speed_rr_fwd,int speed_fr_bck) {
  FL_fwd(speed_fl_fwd); 
  RL_bck(speed_rl_bck); 
  FR_bck(speed_fr_bck);
  RR_fwd(speed_rr_fwd);
;
}
void left_shift(int speed_fl_bck,int speed_rl_fwd ,int speed_rr_bck,int speed_fr_fwd){
   FL_bck(speed_fl_bck);
   RL_fwd(speed_rl_fwd);
   FR_fwd(speed_fr_fwd);
   RR_bck(speed_rr_bck);
  
}
void go_advance(int speed){
   RL_fwd(speed);
   RR_fwd(speed);
   FR_fwd(speed);
   FL_fwd(speed); 
}
void  go_back(int speed){
   RL_bck(speed);
   RR_bck(speed);
   FR_bck(speed);
   FL_bck(speed); 
}
void left_turn(int speed){
   RL_bck(0);
   RR_fwd(speed);
   FR_fwd(speed);
   FL_bck(0); 
}
void right_turn(int speed){
   RL_fwd(speed);
   RR_bck(0);
   FR_bck(0);
   FL_fwd(speed); 
}
void left_back(int speed){
   RL_fwd(0);
   RR_bck(speed);
   FR_bck(speed);
   FL_fwd(0); 
}
void right_back(int speed){
   RL_bck(speed);
   RR_fwd(0);
   FR_fwd(0);
   FL_bck(speed); 
}

void clockwise(int speed){
   RL_fwd(speed);
   RR_bck(speed);
   FR_bck(speed);
   FL_fwd(speed); 
}
void countclockwise(int speed){
   RL_bck(speed);
   RR_fwd(speed);
   FR_fwd(speed);
   FL_bck(speed); 
}
void FR_bck(int speed)  //front-right wheel forward turn
{
  digitalWrite(RightMotorDirPin1, LOW);
  digitalWrite(RightMotorDirPin2,HIGH); 
  analogWrite(speedPinR,speed);
}
void FR_fwd(int speed) // front-right wheel backward turn
{
  digitalWrite(RightMotorDirPin1,HIGH);
  digitalWrite(RightMotorDirPin2,LOW); 
  analogWrite(speedPinR,speed);
}
void FL_bck(int speed) // front-left wheel forward turn
{
  digitalWrite(LeftMotorDirPin1,LOW);
  digitalWrite(LeftMotorDirPin2,HIGH);
  analogWrite(speedPinL,speed);
}
void FL_fwd(int speed) // front-left wheel backward turn
{
  digitalWrite(LeftMotorDirPin1,HIGH);
  digitalWrite(LeftMotorDirPin2,LOW);
  analogWrite(speedPinL,speed);
}

void RR_bck(int speed)  //rear-right wheel forward turn
{
  digitalWrite(RightMotorDirPin1B, LOW);
  digitalWrite(RightMotorDirPin2B,HIGH); 
  analogWrite(speedPinRB,speed);
}
void RR_fwd(int speed)  //rear-right wheel backward turn
{
  digitalWrite(RightMotorDirPin1B, HIGH);
  digitalWrite(RightMotorDirPin2B,LOW); 
  analogWrite(speedPinRB,speed);
}
void RL_bck(int speed)  //rear-left wheel forward turn
{
  digitalWrite(LeftMotorDirPin1B,LOW);
  digitalWrite(LeftMotorDirPin2B,HIGH);
  analogWrite(speedPinLB,speed);
}
void RL_fwd(int speed)    //rear-left wheel backward turn
{
  digitalWrite(LeftMotorDirPin1B,HIGH);
  digitalWrite(LeftMotorDirPin2B,LOW);
  analogWrite(speedPinLB,speed);
}
 
 
void stop_Stop()    //Stop
{
     analogWrite(speedPinLB,0);
  analogWrite(speedPinRB,0);
    analogWrite(speedPinL,0);
  analogWrite(speedPinR,0);
}


//Pins initialize
void init_GPIO()
{
  pinMode(RightMotorDirPin1, OUTPUT); 
  pinMode(RightMotorDirPin2, OUTPUT); 
  pinMode(speedPinL, OUTPUT);  
 
  pinMode(LeftMotorDirPin1, OUTPUT);
  pinMode(LeftMotorDirPin2, OUTPUT); 
  pinMode(speedPinR, OUTPUT);
     pinMode(RightMotorDirPin1B, OUTPUT); 
  pinMode(RightMotorDirPin2B, OUTPUT); 
  pinMode(speedPinLB, OUTPUT);  
 
  pinMode(LeftMotorDirPin1B, OUTPUT);
  pinMode(LeftMotorDirPin2B, OUTPUT); 
  pinMode(speedPinRB, OUTPUT);
   
  stop_Stop();
}
#include "WiFiEsp.h"
#include "WiFiEspUDP.h"
char ssid[] = "osoyoo_robot"; 

int status = WL_IDLE_STATUS;
// use a ring buffer to increase speed and reduce memory allocation
 char packetBuffer[5]; 
WiFiEspUDP Udp;
unsigned int localPort = 8888;  // local port to listen on
void setup()
{
 init_GPIO();
  Serial.begin(9600);   // initialize serial for debugging
    Serial1.begin(115200);
    Serial1.write("AT+UART_DEF=9600,8,1,0,0\r\n");
  delay(200);
  Serial1.write("AT+RST\r\n");
  delay(200);
  Serial1.begin(9600);    // initialize serial for ESP module
  WiFi.init(&Serial1);    // initialize ESP module

  // check for the presence of the shield
  if (WiFi.status() == WL_NO_SHIELD) {
    Serial.println("WiFi shield not present");
    // don't continue
    while (true);
  }

    Serial.print("Attempting to start AP ");
   Serial.println(ssid);
   //AP mode
   status = WiFi.beginAP(ssid, 10, "", 0);

  Serial.println("You're connected to the network");
  printWifiStatus();
  Udp.begin(localPort);
  
  Serial.print("Listening on port ");
  Serial.println(localPort);
}


void loop()
{
  int packetSize = Udp.parsePacket();
  if (packetSize) {                               // if you get a client,
     Serial.print("Received packet of size ");
    Serial.println(packetSize);
    int len = Udp.read(packetBuffer, 255);
    if (len > 0) {
      packetBuffer[len] = 0;
    }
      char c=packetBuffer[0];
      switch (c)    //serial control instructions
      {  
        case 'A':go_advance(SPEED);;break;
        case 'L':left_turn(TURN_SPEED);break;
        case 'R':right_turn(TURN_SPEED);break;
        case 'B':go_back(SPEED);break;
        case 'E':stop_Stop();break;
        case 'F':left_shift(0,150,0,150);break; //left ahead
        case 'H':right_shift(180,0,150,0);break; //right ahead
        case 'I':left_shift(150,0,150,0); break;//left back
        case 'K':right_shift(0,130,0,130); break;//right back
        case 'O':left_shift(200,150,150,200); break;//left shift
        case 'T':right_shift(200,200,200,200); break;//left shift
        default:break;
      }
    }
    
}


 

void printWifiStatus()
{
  // print the SSID of the network you're attached to
  Serial.print("SSID: ");
  Serial.println(WiFi.SSID());

  // print your WiFi shield's IP address
  IPAddress ip = WiFi.localIP();
  Serial.print("IP Address: ");
  Serial.println(ip);

  // print where to go in the browser
  Serial.println();
  Serial.print("To see this page in action, open a browser to http://");
  Serial.println(ip);
  Serial.println();
}


References
[1] https://osoyoo.com/2020/06/15/omni-direction-mecanum-wheel-robotic-kit-lesson-5-wifi-iot-control-by-udp/