In this tutorial, we will use the smartphone to control our robot via Bluetooth.
Parts Required
You can buy your kit @Amazon
1x Mecanum wheels robotic car chassis (2x left-wheels +2x right-wheels and 4x motor)
1 x Arduino Mega2560
1 x Wifi Shield
2 x Model X motor driver
1x HC02 bluetooth module
1x Battery box
2x 18650 Batteries(3.7V)
Procedure
Following are the steps required to perform this tutorial.
Hardware Assembly
You must complete this tutorial Mars Explorer Mecanum Wheel Robot – How to Assembly [1] before you continue on with this one.
Circuit Connection
Step 1: Connect B_TX and B_RX to D19 and D18.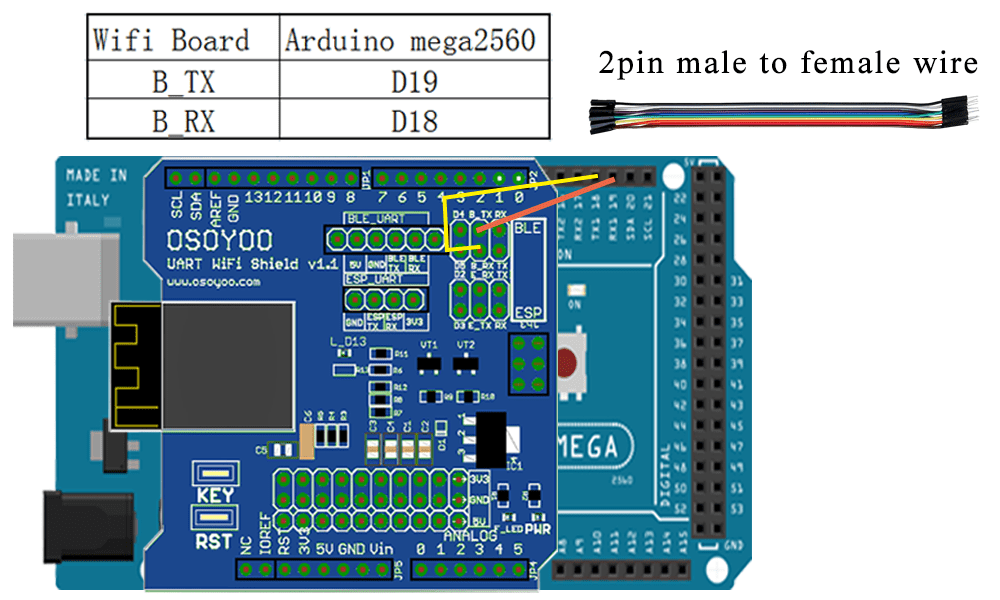 Step 2: Bluetooth Module should be inserted into Bluetooth 6-pin slot in OSOYOO Wifi Board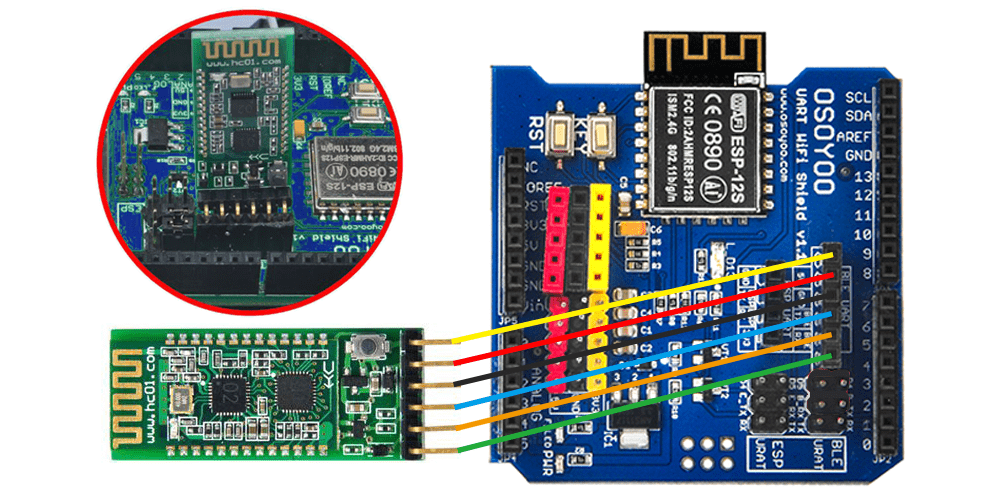 Mobile APP
Go to your Google Play or Apple APP store and search APP name "OSOYOO imitation driving", Download the APP as follows and install it on your smartphone. (Images Source)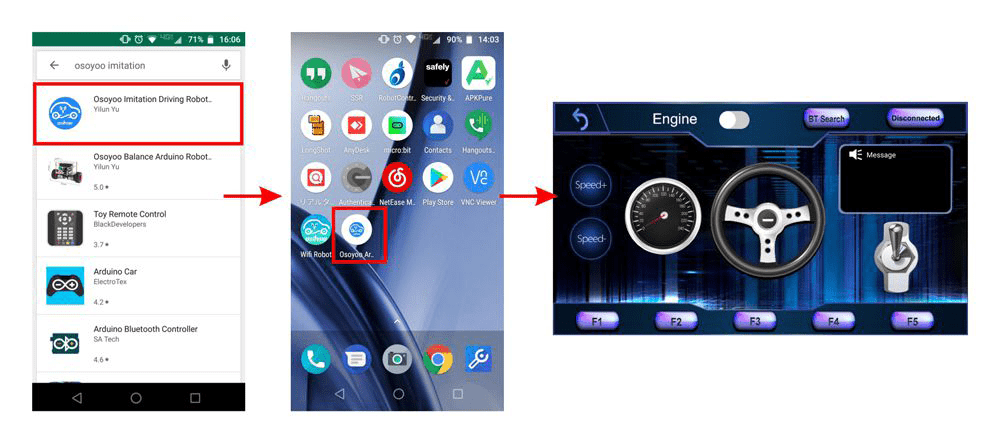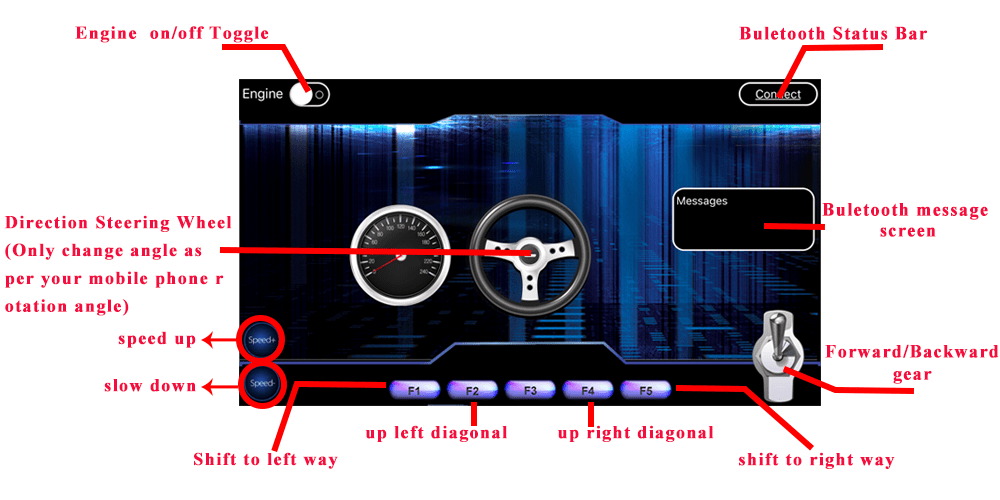 How to Use
Power on the robot, and open the APP.
Step 1: Connect APP to HC-02 Bluetooth Module.
Connect with Android device:
If you use an Android device and have not paired a Bluetooth module with your smartphone, please pair the Bluetooth module first before opening the APP. In your smartphone Setting->Bluetooth, find a Bluetooth device called HC02, pair it with password 1234.
After the Bluetooth HC02 device is paired, open the APP.   Click BT Search Button to connect the APP to the HC02 device.
Connect with iOS device:
If you use an iOS device, simply open the APP, click Connect button, you will see a Bluetooth list, select the HC02 device.
Step 2: Click Engine Switch to start/stop the car.
Step 3: Click Speed +/- button to accelerate or reduce speed.
Step 4: Rotate the smartphone to change direction (the steering wheel will rotate while you are turning the phone).
Step 5: Click Gear button to change gear to Forward or Backward direction.
Step 6: Press F1 to Shift to left way, F5 to shift to the right way, F3 to up left diagonal, F4 to upright diagonal.
Code
#define MAX_PACKETSIZE 32    //Serial receive buffer
char buffUART[MAX_PACKETSIZE];
unsigned int buffUARTIndex = 0;
unsigned long preUARTTick = 0;
struct car_status{
  int speed;
  int angle;
  int direct;
};
int move_speed=100 ;

#define MAX_SPEED  250
#define MIN_SPEED  50

#define TURN_SPEED  70
#define SLOW_TURN_SPEED  50
#define BACK_SPEED  60

int buttonState;
char old_status='0';
#define speedPinR 9   //  RIGHT WHEEL PWM pin D45 connect front MODEL-X ENA 
#define RightMotorDirPin1  22    //Front Right Motor direction pin 1 to Front MODEL-X IN1  (K1)
#define RightMotorDirPin2  24   //Front Right Motor direction pin 2 to Front MODEL-X IN2   (K1)                                 
#define LeftMotorDirPin1  26    //Left front Motor direction pin 1 to Front MODEL-X IN3 (  K3)
#define LeftMotorDirPin2  28   //Left front Motor direction pin 2 to Front MODEL-X IN4 (  K3)
#define speedPinL 10   // Left WHEEL PWM pin D7 connect front MODEL-X ENB

#define speedPinRB 11   //  RIGHT WHEEL PWM pin connect Back MODEL-X ENA 
#define RightMotorDirPin1B  5    //Rear Right Motor direction pin 1 to Back MODEL-X IN1 (  K1)
#define RightMotorDirPin2B 6    //Rear Right Motor direction pin 2 to Back MODEL-X IN2 (  K1) 
#define LeftMotorDirPin1B 7    //Rear left Motor direction pin 1 to Back MODEL-X IN3  K3
#define LeftMotorDirPin2B 8  //Rear left Motor direction pin 2 to Back MODEL-X IN4  k3
#define speedPinLB 12    //   LEFT WHEEL  PWM pin D8 connect Rear MODEL-X ENB
int car_direction = 1; // 1 means forward, 0 gear backward

/*motor control*/
void right_shift(int speed_fl_fwd,int speed_rl_bck ,int speed_rr_fwd,int speed_fr_bck) {
  FL_fwd(speed_fl_fwd); 
  RL_bck(speed_rl_bck); 
  RR_fwd(speed_rr_fwd);
  FR_bck(speed_fr_bck);
}
void left_shift(int speed_fl_bck,int speed_rl_fwd ,int speed_rr_bck,int speed_fr_fwd){
   FL_bck(speed_fl_bck);
   RL_fwd(speed_rl_fwd);
   RR_bck(speed_rr_bck);
   FR_fwd(speed_fr_fwd);
}
void go_advance(int left_speed,int right_speed){
   RL_fwd(left_speed);
   RR_fwd(right_speed);
   FR_fwd(right_speed);
   FL_fwd(left_speed); 
}
void go_back(int left_speed,int right_speed){
   RL_bck(left_speed);
   RR_bck(right_speed);
   FR_bck(right_speed);
   FL_bck(left_speed); 
}
void left_turn(int speed){
   RL_bck(speed);
   RR_fwd(speed);
   FR_fwd(speed);
   FL_bck(speed); 
}
void right_turn(int speed){
   RL_fwd(speed);
   RR_bck(speed);
   FR_bck(speed);
   FL_fwd(speed); 
}
void left_back(int speed){
   RL_fwd(0);
   RR_bck(speed);
   FR_bck(speed);
   FL_fwd(0); 
}
void right_back(int speed){
   RL_bck(speed);
   RR_fwd(0);
   FR_fwd(0);
   FL_bck(speed); 
}
void clockwise(int speed){
   RL_fwd(speed);
   RR_bck(speed);
   FR_bck(speed);
   FL_fwd(speed); 
}
void countclockwise(int speed){
   RL_bck(speed);
   RR_fwd(speed);
   FR_fwd(speed);
   FL_bck(speed); 
}
void FR_fwd(int speed)  //front-right wheel forward turn
{
  digitalWrite(RightMotorDirPin1,HIGH);
  digitalWrite(RightMotorDirPin2,LOW); 
  analogWrite(speedPinR,speed);
}
void FR_bck(int speed) // front-right wheel backward turn
{
  digitalWrite(RightMotorDirPin1,LOW);
  digitalWrite(RightMotorDirPin2,HIGH); 
  analogWrite(speedPinR,speed);
}
void FL_fwd(int speed) // front-left wheel forward turn
{
  digitalWrite(LeftMotorDirPin1,HIGH);
  digitalWrite(LeftMotorDirPin2,LOW);
  analogWrite(speedPinL,speed);
}
void FL_bck(int speed) // front-left wheel backward turn
{
  digitalWrite(LeftMotorDirPin1,LOW);
  digitalWrite(LeftMotorDirPin2,HIGH);
  analogWrite(speedPinL,speed);
}

void RR_fwd(int speed)  //rear-right wheel forward turn
{
  digitalWrite(RightMotorDirPin1B, HIGH);
  digitalWrite(RightMotorDirPin2B,LOW); 
  analogWrite(speedPinRB,speed);
}
void RR_bck(int speed)  //rear-right wheel backward turn
{
  digitalWrite(RightMotorDirPin1B, LOW);
  digitalWrite(RightMotorDirPin2B,HIGH); 
  analogWrite(speedPinRB,speed);
}
void RL_fwd(int speed)  //rear-left wheel forward turn
{
  digitalWrite(LeftMotorDirPin1B,HIGH);
  digitalWrite(LeftMotorDirPin2B,LOW);
  analogWrite(speedPinLB,speed);
}
void RL_bck(int speed)    //rear-left wheel backward turn
{
  digitalWrite(LeftMotorDirPin1B,LOW);
  digitalWrite(LeftMotorDirPin2B,HIGH);
  analogWrite(speedPinLB,speed);
}
 
 
void stop_stop()    //Stop
{
    analogWrite(speedPinLB,0);
 analogWrite(speedPinRB,0);
    analogWrite(speedPinL,0);
 analogWrite(speedPinR,0);
}


//Pins initialize
void init_GPIO()
{
  pinMode(RightMotorDirPin1, OUTPUT); 
  pinMode(RightMotorDirPin2, OUTPUT); 
  pinMode(speedPinL, OUTPUT);  
 
  pinMode(LeftMotorDirPin1, OUTPUT);
  pinMode(LeftMotorDirPin2, OUTPUT); 
  pinMode(speedPinR, OUTPUT);
     pinMode(RightMotorDirPin1B, OUTPUT); 
  pinMode(RightMotorDirPin2B, OUTPUT); 
  pinMode(speedPinLB, OUTPUT);  
 
  pinMode(LeftMotorDirPin1B, OUTPUT);
  pinMode(LeftMotorDirPin2B, OUTPUT); 
  pinMode(speedPinRB, OUTPUT);

}

void setup()
{
  init_GPIO();
    Serial.begin(9600);//In order to fit the Bluetooth module's default baud rate, only 9600
   Serial1.begin(9600);
 
 
  stop_stop();
 
}

void loop(){
 do_Uart_Tick();
}

void do_Uart_Tick()
{

  char Uart_Date=0;
  if(Serial1.available()) 
  {
    size_t len = Serial1.available();
    uint8_t sbuf[len + 1];
    sbuf[len] = 0x00;
    Serial1.readBytes(sbuf, len);
    //parseUartPackage((char*)sbuf);
    memcpy(buffUART + buffUARTIndex, sbuf, len);//ensure that the serial port can read the entire frame of data
    buffUARTIndex += len;
    preUARTTick = millis();
    if(buffUARTIndex >= MAX_PACKETSIZE - 1) 
    {
      buffUARTIndex = MAX_PACKETSIZE - 2;
      preUARTTick = preUARTTick - 200;
    }
  }
  car_status cs;
  if(buffUARTIndex > 0 && (millis() - preUARTTick >= 100))//APP send flag to modify the obstacle avoidance parameters
  { //data ready
    buffUART[buffUARTIndex] = 0x00;
    Uart_Date=buffUART[0];
    cs=get_status(buffUART);
    car_direction=cs.angle;
    buffUARTIndex = 0;
  }
  move_speed=cs.speed;
   if (cs.speed>MAX_SPEED) move_speed= MAX_SPEED;
   if (cs.speed<MIN_SPEED) move_speed= MIN_SPEED;

  switch (Uart_Date)    //serial control instructions
  {
    case 'M':  
    if(old_status=='0')
    go_advance(110,110);
    old_status='M';
    delay(35);
    go_advance(move_speed,move_speed);
    break;
    
    case 'L':  
    car_direction=1;
    if (cs.angle<2)
     go_advance(SLOW_TURN_SPEED,TURN_SPEED);
    else  left_turn(SLOW_TURN_SPEED);
    old_status='0';
    break;
    case 'R': 
      car_direction=1;
     if (cs.angle>-2)
      go_advance(TURN_SPEED,SLOW_TURN_SPEED);
     else right_turn(SLOW_TURN_SPEED); 
     old_status='0';
    break;
    case 'B':  
      car_direction=0;
    go_back(BACK_SPEED,BACK_SPEED); 
     old_status='0';
    break;
    case 'X': 
      car_direction=0;
    if (cs.angle>-2)
      go_back(SLOW_TURN_SPEED,TURN_SPEED); 
    else
      left_back(TURN_SPEED);
   old_status='0';
    break;
    case 'Y':  
     car_direction=0;
    if (cs.angle<2)
      go_back(TURN_SPEED,SLOW_TURN_SPEED); 
    else
     right_back(TURN_SPEED); 
    old_status='0';
    break;
     case 'F':  
   //   left_shift(200,150,150,200); //left shift
      left_shift(180,170,190,190) ;//left shift
      delay(800);
      old_status='0';
      break;
    case 'J':       
    //  right_shift(200,150,150,200); //right shift
         right_shift(200,170,170,200); //right shift
      delay(800);
      old_status='0';
      break;
    case 'G': 
       if (car_direction==1) left_shift(0,150,0,150); //left ahead
        else left_shift(150,0,150,0); //left back
    delay(800);
    old_status='0';
    break;
    case 'I': 
     if (car_direction==1) right_shift(180,0,150,0); //right ahead
      else  right_shift(0,130,0,130); //right back
     delay(100);
     old_status='0';
    break;
    case 'E': stop_stop(); 
         old_status='0';
    break;
    default:break;
  }
}

car_status get_status( char buffUART[])
{
  car_status cstatus;
  int index=2;
  if (buffUART[index]=='-'){
    cstatus.angle=-buffUART[index+1]+'0';
    index=index+3;
    
  } else {
   
    cstatus.angle=buffUART[index]-'0';
     index=index+2;
  }
  int currentvalue;
  int spd=0;
  while (buffUART[index]!=',')
  {
    currentvalue=buffUART[index]-'0';
    spd=spd*10+currentvalue;
    index++;
  }
  cstatus.speed=spd;
  index++;
  cstatus.direct=buffUART[index]-'0';
  return cstatus;
}

References
[1] https://osoyoo.com/2019/11/13/omni-direction-mecanum-wheel-robotic-kit-arduino-mega2560-lesson-4/